1971 Alfa Romeo GTV 1750
Classic Car Hire from Webb's of Weybridge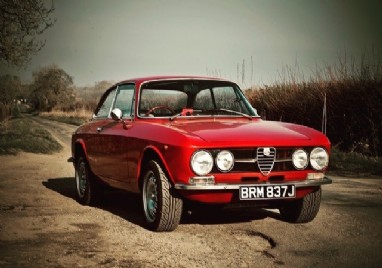 Date
1971
Colour
Red
Make
Alfa Romeo
Seats
4
Model
GTV 1750
Man/Auto
Manual
Body
Coupe
Engine
1,750 cc
Location
Weybridge, Surrey
About:
This Alfa Romeo 1750 GTV is the 'one to have' and was produced from 1967 to 1972. Perfectly comfortable on the A and B roads, she is a pure pleasure to be in. Bertone styling and design has produced one of Italians finest all rounder motor cars. come and see for yourself!
On The Road:
Amazing handling with a great exhaust note! Beautiful power through the gears with a 5th gear helping with longer A road journeys.​
​Features:
Bluetooth, USB connections and a smart stereo with DAB radio and central Locking!​ Who'd have thought!
​Service:
​For your special occasion, weddings or birthdays, we can provide a bespoke car transportation service which can include the delivery of your vehicle to your chosen start location. We also offer collection from the same address or a different address if you need. Our 'Customer Car Swap' service proves very popular giving you the chance to have your car waiting for you when you return the vehicle. Benefit from our 'Flexi Hire' service - start your hire from any time of day Eg: 3pm - 3pm.
​
Back to Classic Cars for Hire