A warm welcome to RNG Classics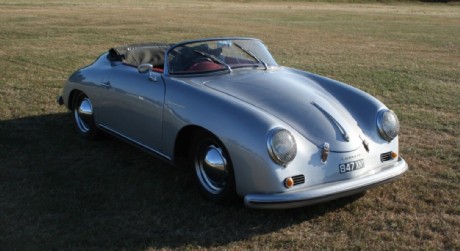 The Historic & Classic-car Hirer's Guild is delighted to welcome aboard new member, RNG Classics. Whether you want to experience Britain's racing heritage, Italian muscle and style, or German precision and prowess, RNG Classics has just the car.
Location
Ideally located near Redhill in Earlswood, Surrey right between London and the coast, explore the South-East at your leisure. Earlswood is on the Thameslink train line so if you're travelling out of London for a cheeky weekend away, you could be picking up the keys to the Ferrari 308 GTSi in under an hour! Trains run direct from St Pancras International or London Bridge, or if you're planning a longer trip - Earlswood is just ten minutes from Gatwick Airport by train.
The cars
1969 Series 2 Jaguar E Type convertible
Verified by the Jaguar Heritage Trust, this true classic car actually hails from the US. Starting in New York, it then headed for the sunshine in California where it was held dear by the same family since leaving the dealership. Over the years it has been carefully restored to retain authenticity and it is now at home at RNG Classics. Know a Jaguar enthusiast who deserves a treat? This is it!
Lotus Esprit S3
The Lotus Esprit can be one of the more overlooked classics but is far from overlooked here! This normally aspirated 2.2 straight 4, twin cam loves being driven hard and pushed through the rev band. You'll notice and love the original gold livery, gold inlay spoked wheels and Goodyear tyres. This car looks the business from every angle. Is it time to rediscover the Lotus Esprit?
Ferrari 308 GTSi
Not everything we recall from the 80s is about style but there is one exception, the iconic ride of Magnum P.I. of course! The Ferrari 308 GTSi exudes Italian presence, style and flair and this one is the Quattrovalve model with the Targa top and imposing black grills. Impeccably maintained, a dream to hear start up and an unforgettable thrill to drive. This 80s icon is ready and waiting to transport you back to the days of hawaiian shirts, tight jeans and enviable moustaches!
1971 MG B GT
One of the world's best loved classic cars and for good reason. This 1971 model with chrome bumper is in midnight blue with Rostyle wheels. With no compromise on style, the bodywork and black leather interior are in superb condition. This is a great little sports car for Goodwood, a day trip to the coast or a picnic in the countryside.
Porsche Speedster 356a
This is a beautiful replica Porsche Speedster 356a based on the legendary James Dean 356 Speedster of 1960. This car has been hand built and lovingly created. You'll love the authentic and genuine bodywork, dash, steering wheel, lights and wheels. With a superbly pokey 1600 super Beetle engine and precise 4 speed gearbox, this has to be one of the most iconic vehicles of the 20th century. When you take this one out for a spin, it never fails to turn heads and generate appreciative smiles, in addition of course to your own beaming smile when you hit the open road!
For hire
These classic cars are available for self-drive or chauffeur driven hire across London, Surrey, Kent & Sussex.
Email: hello@rngclassics.com
Why use an HCHG member?
Only Historic & Classic-car Hirers Guild members abide by a set of safety and quality standards so you can be sure of a great classic car experience.
Return to our News Archive